The Langley Animal Protection Society (LAPS)
View Entry as RSS
View Entry as Image
Author: Devin Ramsey, RVT @ 05/25/14 - 08:30 pm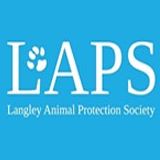 The Langley Animal Protection Society (LAPS) is a registered non-profit society. It was formed in 2003 by its first volunteer and founder, Pattie Dale. And with the help of additional dedicated volunteers they all worked together to lobby the government for a municipally run animal shelter. Since then they have responded to dog & large animal complaints which has resulted in reducing the number of complaints by 50%. And in 2009, they moved into a new state-of-the-art facility that is specifically designed with the animal's best interests at heart.
LAPS has a series of special programs that it incorporates into the shelter that includes animal enrichment for the canines and felines for starters and The Fraser Valley Institute also has a unique partnership between the Canadian Correctional Service (CSC) and LAPS. The Fraser Valley Institution is a federal prison for women in Abbotsford. They help to provide more exercise along with one-on-one time with your pet should you need to board them into a shelter. As for the stray dogs, they are paired with individual female trainers with the hopes of giving them a better shot at finding a more permanent home. The dogs are not the only ones to benefit from this unique pairing. The participants get the chance to learn both industry specific skills and general employment skills. There is also a volunteer program of course which the shelter would be helpless without. Lastly, there is a food bank and cat spay and neuter program available for those families in need in the Langley area should they need some assistance in caring for their pet.

I began volunteering at LAPS because I was curious of the other end of the spectrum. While being an extern at a local veterinary hospital in Langley, I got to assist in caring for animals brought in from LAPS on a routine bases. And of course hearing wonderful things about the facility and care the animals received there I had to check this out for myself. I was welcomed to LAPS were I was given a safety orientation, tour of the facility & met the staff. My duties consists of a wide variety of tasks from general cleaning of the facility inside and out, prepping the food and feeding of the animals and helping to spend individual time with the animals including those kept in isolation.

While volunteering at LAPS I have learned to look at dogs and cats more closely. Working in a veterinary clinic that has such a close relationship with a shelter was new to me. It is so easy to only think of the animals that have homes and loving families when you donít get the opportunity to work around sheltered animals on a daily bases. I had to focus more on the animalís body language and behavior and not so much on the medical side of things. I had to remind myself that a lot of animals that pass through the shelter are not so welcoming to the idea and presence of human interaction and that their past circumstances play a huge role into how they can be dealt with in the shelter setting. This ranges from how they are housed, interacted with and how special thought, care and patience needs to go into them on a daily bases while working to get them on the right road to recovery in hopes of finding that perfect forever home.

Working in a shelter can be a rewarding experience, but also a demanding one. It should not be approached lightly. You need to always be aware of yourself and the animals that you are helping to care for. Never put yourself in a questionable or dangerous situation and always ask for help if you are unsure or feel even the slightest bit uncomfortable. It is also an asset if you have previous experience with animals and handling if possible. If not, donít fret! LAPS has training classes to assist you, including one on how to properly walk a dog. As for myself, I know with each day at LAPS I will continue to gain more knowledge and respect for the animals I encounter. I hope to continue my volunteer work for years to come.

Thank you for reading.